ROBINHOOD-THE FREE TRADING APPLICATION
Covid-19 will pass and when it does the stock market will go up.
With the stock market booming this year, I decided to get into stocks. It took some trial and error, but I found the best way to trade. Trade free with Robinhood commission free trades. You can research it here:
https://en.m.wikipedia.org/wiki/Robinhood_Markets
Getting around to the point, with their referral program they will give each one of us 1 free stock to get started with.
So, I can give people a way to trade free and get each of us a free stock. If you have ever been interested in stocks, give it a look, do your own research. I have started with penny stocks.

Click Here to Get started now!
Check it out. Sign up, get your free stock.
You do not have to link your bank account for us to both get the free stock. That is for for when/if you get ready to invest. Just click skip and you can use the app to learn the ropes and then you can link a bank account to invest with later on if you want. You can buy as little as 1 stock. The law requires you to enter certain information that will allow you to legally own stocks. I have personally used this page and it is secure.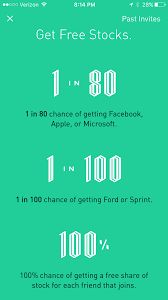 FREE STOCK AND TRADING FOR FREE!
Then you can literally get started trading in minutes and make deposits to buy with very little money up front. I have saved a ton on the free trades in the last month. I have not found a down side to this!

Click Here to Get started now!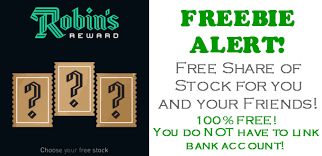 FREE STOCK AND TRADING FOR FREE!